Roofing companies often operate on a pretty thin profit margin and need to make sure that they cut down on their operating costs as much as possible. However, doing so is not always easy because these professionals may not fully understand the various methods available to help improve their overall efficiency and ensure that their workflow is as smooth and easy-to-understand as possible.
The following tips are designed to enhance your workflow and make it easier to cut back on unnecessary costs. The exciting thing about these techniques is that they'll cut back on costs in small ways that add up over time. You likely don't even have to change your overall building process to get advantages here, creating a uniquely streamlined range of benefits that enhance your workflow.
Use Roofing CRM Software to Manage Your Warehouse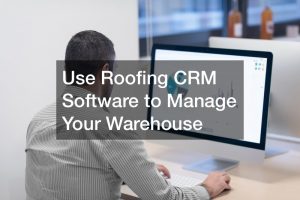 CRM software is a critical addition to any business operation because it can open up your process in many ways. It helps by making it easier for you to track your warehouse and the items you may have stored in a roofing business. These systems utilize many different software tracking systems to ensure that this process goes as smoothly as possible.
When integrated into your business correctly, it can cut down on your costs by streamlining your equipment usage and ensuring that it is as efficient as possible. This decreases the number of goods you have to purchase and ensures you have what you need at all times. Other benefits that commercial space management systems of this type offer your business include the following:
Streamlined Operation – By fully understanding what you have in your warehouse, you can play jobs around what you possess, schedule deliveries to get more goods, and upgrade your operation in a myriad of ways. You can also cut back on expensive emergency deliveries when you need something now.
Decreased Operational Costs – Using CRM software makes it easier and more efficient to track your goods and your overall building process, creating a simplified and more efficient use of your time. Instead of relying on the potential for humor error, you can use this software to minimize errors.
Enhanced Building Times – When you know what you have in your warehouse, you can work faster by scheduling your jobs around your part availability. You can also make sure that your roofing tools are repaired, maintained, and replaced as needed, ensuring you don't suffer equipment failure on the job.
Improved IT Access – Your business likely needs high-quality IT help to ensure that it runs smoothly. Even as roofers, you probably use a large number of computers and networks to try your goods. With a CRM program, you make your IT easier to access and manage and improve its overall efficiency.
When you choose CRM software, you pay attention to the various types on the market today. Some companies produce options for roofing companies that utilize high-quality tracking options that make it simpler for you and your business to track your materials. Others are adaptable, allowing you to change out various elements in a modular fashion.
Also, make sure that your program is compatible with your operating system – a problem that may be more common than you'd expect. After all, many roofing professionals may have outdated software in their warehouse, running on old computers that they understand and know how to operate. An update and training session will help out your warehouse manager in this way.
Invest in Quality Roofing Equipment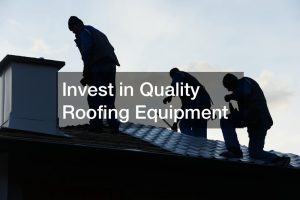 Roofing equipment is going to take up a lot of your financial investment. As a result, you need the finest tools you can find, types that will last for years and provide many high-quality benefits for your operation. It would help if you also made sure that you always have the right equipment at all of your jobs, working hard to minimize equipment preparation mistakes that may leave your workers unable to perform basic repair or installation steps, slowing down your overall work progress.
For example, you can hire an equipment specialist who can track all of your necessary tools and make sure that they are in great shape. These professionals can not only inventory every item that you own but also make sure that they are updated and repaired as needed. They can then make sure that every piece that you need gets out with you on a job, ensuring that everything goes as smoothly as possible.
And when you buy your roofing equipment, make sure that you don't try to get cheap on yourself. Too many roofers try to buy inexpensive roofing equipment, believing that they are saving money. That is rarely the case when you buy cheap and probably poorly constructed roofing equipment. Instead, they usually end up having to replace this equipment multiple times in what would have been the lifetime of quality equipment. This doesn't even consider equipment failure on the job, causing potential complications and workflow slowdown.
It is also essential to buy or rent equipment trailers that you can utilize for more accessible transportation of your equipment. They make it easier for you to take everything you need to a job without making multiple trips. Though this step is small, it cuts back on traveling time and makes sure that your workers on the roof, rather than driving between your warehouse and the job site every day.
Use Recruiting Automation to Find Contractors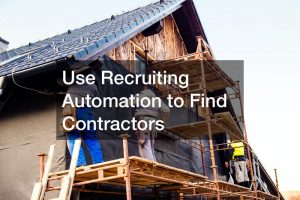 Roofing contractors are like any building company in that they move from one job to the next and often rely on many other contractors to get their job done. While a good roofing business is usually in pretty heavy demand, there are times when it might seem slow and when your workflow is not at its peak. This problem can be very frustrating and requires a little bit of help with recruiting automation programs.
Recruiting automation is a unique process that allows you to pin-point various sub-contractors who can help you with your job. Typically, it utilizes a series of search algorithms that make it easy to narrow down the professionals in your area who can handle your sub-contracting needs for you. Sub-contractors that you might need to hire for many types of roofing jobs include:
Shingle Installers – Sometimes, if the homeowner has a demand for a particular type of shingle, you may need to hire a sub-contractor who knows how to work with them. Automation programs help to streamline this process and make it easier for you to connect with these experts.
Structural Repair and Upgrade Experts – When laying the roof's underlying structure, including its many supporting beams, you may need to hire a sub-contractor who can help you here. Narrow down your search with automation software to recruit a team that understands your unique roofing needs.
Professionals Who Can Provide Environmentally Safe Upgrades – Many homeowners may want "green" roofing measures, such as recycled shingles or even solar panel installation. If you don't feel comfortable performing these steps – or don't know how – sub-contractors can help ensure that you get it right the first time.
Cleaners for Difficult Roof Areas – Though you can probably easily clean most of a roof during a typical maintenance process, you may find that some areas are more challenging to reach than others. As a result, you may need sub-contractors who can provide specialized cleaning processes for your needs.
Repair Experts for Home Structural Damage – Roofing may cause damage to many areas of a home by accident, such as a flawed water management system causing a drip-line around the house that soaks into the soil and causes foundation damage. Sub-contractors can help to fix this problem and keep a home strong.
By automating your recruiting, you can provide roofing services that meet the demands of your customers. Assess your overall efficiency in this way and gauge whether or not you even need sub-contractors. Automation software may help you make this decision by showing you a list of the various contractors you can hire and narrow them down by need.
Use Job Tracking Software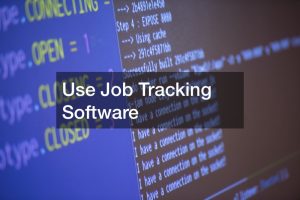 Roofing job tracking software provides you with an up-to-date way of gauging your roofing progress. These programs can be integrated onto many software platforms and synced up with phones and tablets that your workers take on the job. They can then provide updates on the job, interact with you in real-time, and ensure that you can keep track of your workflow without any slowdowns or errors.
Software of this type can be easily adapted and tweaked to meet the needs of a large number of workers, as it often operates on a modular design that allows users to add various elements and remove those that they don't need. And when used properly, this type of software provides many benefits that you can't get otherwise for your business, including how it will:
When choosing job tracking software, it is a brilliant idea to examine a few various programs before picking one that seems right for your needs. Often, there are a large number of options available in a single program, such as those that allow for offline usage or which integrate video-based operations that would enable you to watch your workers and give them advice or suggestions in real-time.
In a sense, this software allows you and your roofing crew to become a synchronized and updated team, utilizing high-technology to make sure everything goes smoothly. By cutting back on the potential for mistakes and making it easier to track work progress in this way, you can make sure that everyone stays on task and that your job is done smoothly and efficiently.
Don't Neglect Help When Needed
If at any time you feel like you need this type of software, you can always reach out to experts in your area or online who can help you find options that meet your needs. Many of these individuals will not only install this software on your systems but will work to make sure your networks and computers are updated. In this way, you can run everything as smoothly as possible with minimal problems.
by